Our Products
E-PTO CM
The CM43 is mounts on the chassis frame and enables a longer refuse body. The system is split into two boxes, the battery box and the power box, which can be separately mounted left/right on the chassis frame. These systems were originally designed for mobile crane applications but are also available for refuse applications.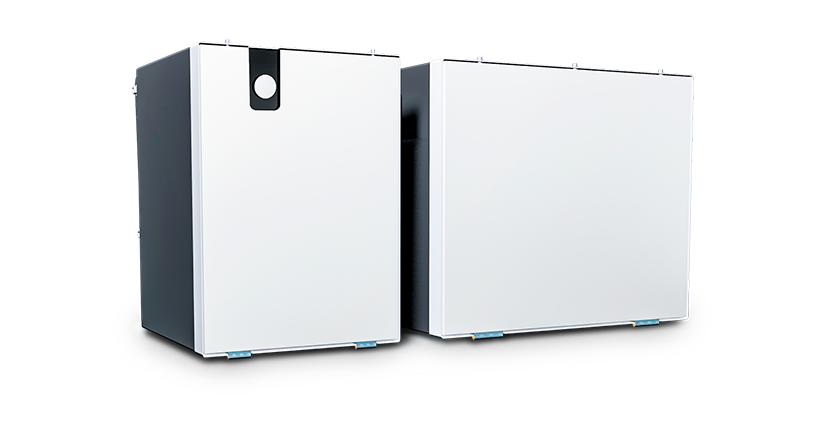 System is split into 2 boxes. The battery box contains the battery cells and battery management system. The Powerbox contains the Power electronics, Hydraulic pump and charger.

Powercable between Powerbox and Battery box is operated at 120 Volts for safety.

Originally designed for mobile cranes but also used on refuse trucks if space at the chassis frame is available. This allows for a bigger body volume.

Due to the 340 bar working pressure with mobile cranes only the Load-sense pump version can be used. The crane system must have Load sense hydraulics too. For refuse applications Banke advises to use our special fixed pump that is close to noiseless.

The Powerbox of the CM series can be combined with an E-PTO of the TM 54 series. This provides two independent hydraulic systems that can deliver (peak) power.

Boxes are independently mounted to the chassis frame with an optionally delivered bracket system.

The on-board charger is connected to the mains using an industrial standard CEE-16A connector. You can recharge on any location where 400 Volt 3 phase (16 Amp group) is available.

Lithium Ion batteries ensure low weight of the E-PTO. The chemistry used (LiFePO4) ensures a slow aging of the batteries when these are deeply discharged on a daily basis.

Available with CAN-bus or Analog control interface.

30 KW nominal and 45 kW peak performance.

Available in 22, 29 and 36 kWh capacity.

The battery pack is constructed in such way that each cell can be individually exchanged.

Powder coated aluminium outer structure in RAL 9010 white. Front doors are stainless. Box exteriors can be delivered in RAL colour code if this colour is available as powder coat (e.g. chassis grey). Please consult the factory.

Banke E-PTO systems have a generic design and can be used with all body manufacturers.
All specifications are subject to change without further notice – 23 February 2021
| | |
| --- | --- |
| Power Levels E-motor and installed capacity | 0-30 kW, operational, peak power 45 kW, continuous power 20 kW 43 kWh (new and excluding aging) |
| Battery Technology | LiFePO4 |
| Battery Lifetime | > 2000 full cycles |
| Battery Heating | Electric 400W forced air, to enable full charging capacity – even at low temperatures |
| Battery Voltage | 80-115V |
| Battery Cell Protection | Balancing and active protection on all cells |
| Battery Pack Protection | Fully protected against overcurrent, over-, and under-voltage, excessive temperature use and charging |
| Motor Technology | AC motor with variable closed loop RPM control |
| Control Interface | Either CAN, analogue, PWM, or logic I/O |
| Charging | On-board 3,3 kW |
| Charging Time | 12-13 hours |
| AC Installation Requirements | 3*400V AC 50 Hz, standard 5 pole 16A CEEplug with RCD |
| 24V Supply from ignition key | 16-32 VDC max 5A. Protection requirement, 10A fuse |
| Hydraulic Interface | Variable displacement load sensing pump |
| Temperature Range | -20˚C to +45˚C (above 35˚C power derating possible) |
| Cooling | Forced air |
| IP-grade | IP65, allowing high-pressure wash down. Note: high-pressure wash down not allowed directly in charging connector, IP44 |
| Dimensions Hydraulic box (L,W,H) | 555 mm, 776 mm, 727 mm Note: Excl. hydraulic connections. Max width dimension includes cable entry |
| Dimensions Battery Box (L, W, H) | 898 mm, 768 mm, 727 mm Note: Max width includes cable entry |
| Weight Hydraulic box | 170 kg |
| Weight Battery box | 445 kg |
| Options | Charging by chassis alternator via Inverter Charging by generator on chassis PTO |