30.08.2023
#meetBanketeam: Introducing Oleksandr Karavan – Shaping the Future of E-Mobility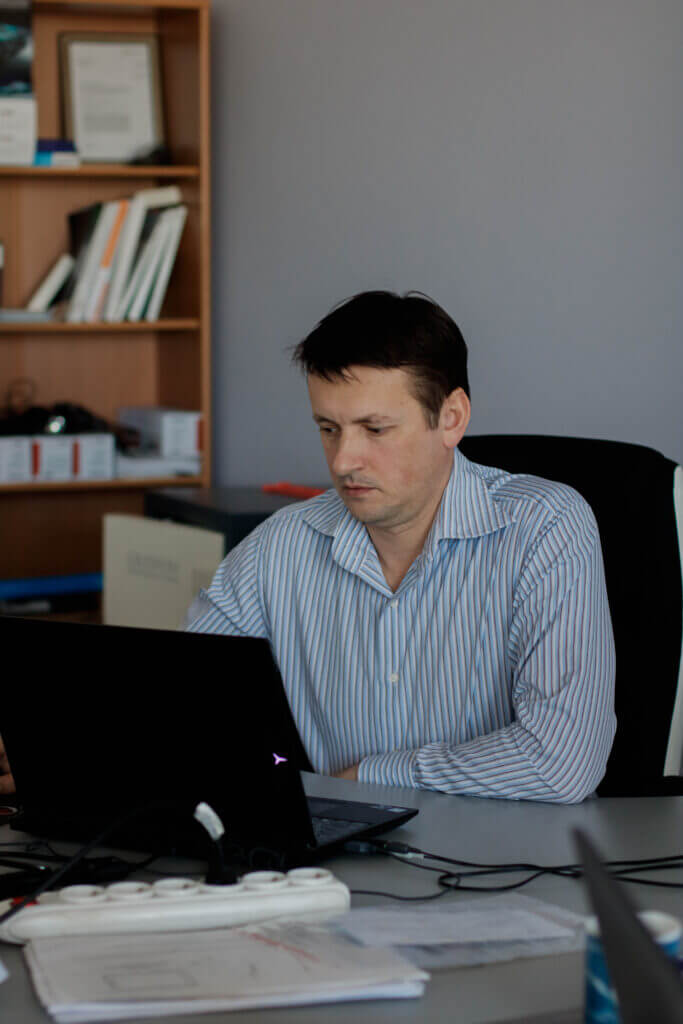 In our mission to introduce you to the amazing people at Banke, we're back with #meetBanketeam. This series lets us share the talents of our team members. Today, let's get to know Oleksandr Karavan, part of our R&D team located in Lviv, Ukraine. Oleksandr is a vehicle wizard. He is an automotive design engineer at Banke. Oleksandr has been with the company for more than six years. He is involved in various projects, including the design of electric trucks, buses, and the new generation of electric chassis PTOs.
Role and Responsibilities: Innovation Sculptor
Oleksandr has diverse responsibilities, focusing on projects involving vehicles of all types. He digs into the complex details of trucks and buses, navigating the intricacies of certification and mechanical engineering. Oleksandr is the visionary behind the mechanical designs, a master of hydraulics, and a troubleshooter for the smooth integration of electric and hydraulic components.
Here is a breakdown of Oleksandr's responsibilities:
Create general concepts and design mechanical layouts for vehicles of all types
Navigate the complexities of certification and regulatory requirements
Develop and integrate hydraulic systems for vehicles
Troubleshoot and solve problems with electric and hydraulic systems
Work with a team of engineers to bring innovative projects to life.
Making E-mobility a Reality: Oleksandr's Everyday
Oleksandr's work is all about making e-mobility awesome. He starts his day by meeting with his team to discuss their projects. They talk about their challenges and how they can overcome them. Then, they get to work designing new components, calculating loads, and writing technical documentation. Oleksandr also spends a lot of time collaborating with other departments, such as the sales and manufacturing teams. He must ensure that his designs are feasible and can be manufactured efficiently.
One of the projects that Oleksandr is currently working on is designing a new electric vehicle. Oleksandr is excited about this project because he believes that it has the potential to make a real difference in the world.
Teamwork All Around: Colleagues from Near and Far
Oleksandr is part of a close-knit team of engineers passionate about making electric mobility a reality. They work together to overcome challenges and bring their ideas to life. The team is made up of people from different countries, which helps bring diverse perspectives to the table. Oleksandr values the opportunity to learn from his colleagues and to collaborate with them on innovative projects.
One of the things that Oleksandr appreciates most about his team is their willingness to help each other out. They are always there to lend a hand, whether brainstorming new ideas or troubleshooting a problem.
Secret Sauce of Success: How They Make It Work
The secret sauce of Oleksandr's team's success is their dedication and hard work. They are always willing to go the extra mile to get the job done. They are also very supportive of each other and always celebrate their successes. Oleksandr also says that the big part of the secret to team success is clear communication and understanding of each other. His team shares ideas all the time. They talk about how to make vehicles better and safer. They also discuss customers' demands and wishes and how to make them come true.
Oleksandr believes that these qualities are essential for any successful team. He is glad to be a part of such a team and is confident they can achieve great things together.
Dreaming Big: Wishes for the Future
Oleksandr dreams big. He wants to help make the automotive industry more sustainable by designing innovative electric vehicles. Oleksandr dreams about turning old buses into cool electric ones. He also thinks about creating new cars from scratch – making them electric and super smart. He's excited about Banke growing and having even more interesting projects. Oleksandr is excited to see what the future holds for Banke and the electric vehicle industry.
More Than Just Trucks: Fun Outside of Work
When he's not making cars even cooler, Oleksandr loves being active. He plays football, goes swimming, and enjoys jogging. Oleksandr is also a volunteer. He has worked with refugees, lending a helping hand to those affected by the war in Ukraine. Now, he and his wife are helping in the pet shelter in Lviv.
Oleksandr is a talented engineer and a dedicated team player. He is passionate about making electric vehicles a reality and he is excited to see what the future holds for the automotive industry.