12.11.2021
Banke has supplied a first-generation electric chassis power take-off (eC-PTO)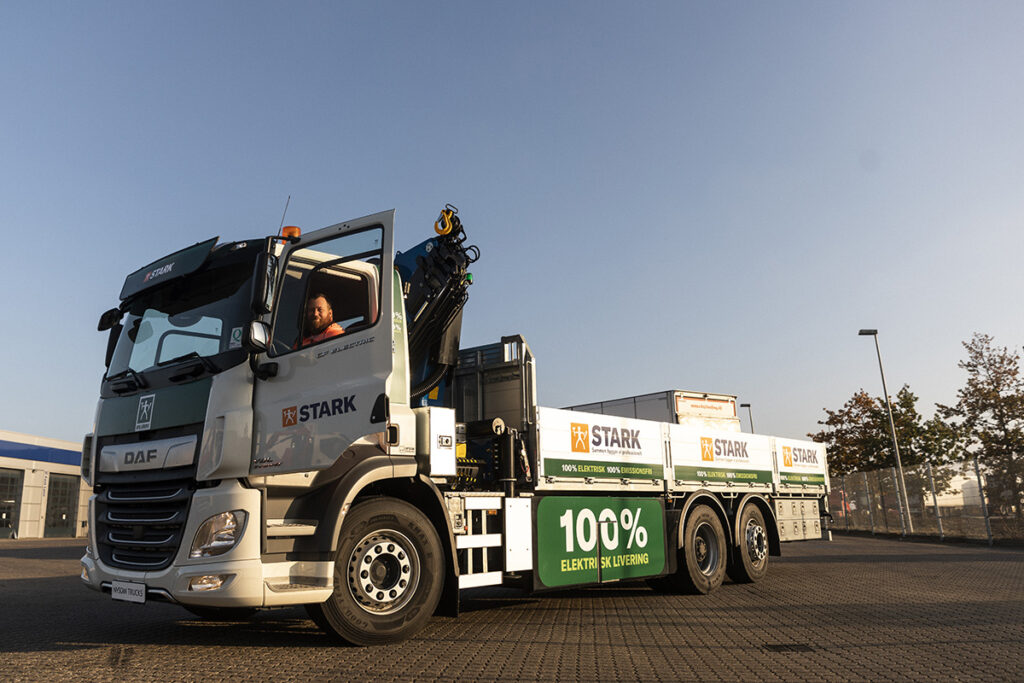 Banke ApS has supplied a first-generation electric chassis power take-off (eC-PTO), enabling an electric chassis from DAF to power a 20 ton-meter Palfinger crane.
Denmark's biggest construction supplies chain, STARK, is the first company in the country to put a full-electric truck into operation, and Banke ApS is proud to be part of the project.
The range and capacity of DAF's full-electric truck mean that it can be utilized for working vehicle applications such as, in this case, mobile cranes. However, the DAF chassis does not come with a power take-off (PTO) to provide the hydraulic pressure and flow necessary to power the crane. Banke ApS has developed and delivered an electric-chassis PTO solution that drives the hydraulic crane with power from the truck's battery pack.
The electric chassis PTO solution consists of a hydraulic pump, an electronic control unit, an interface to the truck's electrical system, and a DC-AC current converter. The whole package has a minimal footprint and was easy to place on the chassis frame.
You can see the truck delivering building materials and goods to STARK customers in and around Copenhagen. A fully-electric vehicle helps to keep the air clean in the capital. It also makes construction more sustainable and meets the growing demands for emission-free construction sites. The electric DAF CF has a 13-ton payload and a range of 220 km between charges – perfect for distribution in the Copenhagen area.