14.06.2023
First shipment to New Zealand – done!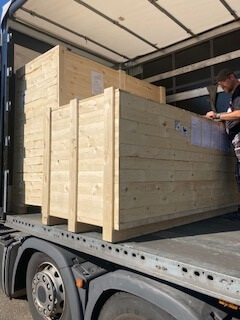 We are thrilled to announce that today we shipped two E-PTOs all the way from Denmark to New Zealand, marking our very first shipment outside of Europe. This is a significant milestone for our company!
We are glad to partner with our distributor in New Zealand, Access Specialties Ltd, who will be responsible for mounting both E-PTOs onto trucks. Their expertise and dedication ensure that our E-PTO solutions are seamlessly integrated into the vehicles, maximizing their performance and functionality.
The first E-PTO, CM-36, is equipped with a powerful 36 kWh battery pack, providing 110 VDC. Its 20 kW continuous and 45 kW peak power make it the perfect fit for Aichi bucket trucks. This E-PTO will power a bucket lift and help to handle various tasks, including changing bulbs in traffic lights and maintaining outside high-voltage electrical installations. It features a single charger, a DC/DC converter specifically tailored for the truck, and a SOC Gauge (state of charge display).
The second E-PTO, TM-64, has a larger 64 kWh battery pack, offering 110 VDC. Its 30 kW continuous and 45 kW peak power make it an excellent choice for a Palfinger crane that will be used for maintaining and installing high-voltage wires. This particular TM-64 is equipped with analog (I/O) integration to a Palfinger crane. It also includes a double charger and an integrated DC/DC converter for optimal functionality.
We are proud to announce that both solutions will be showcased at the Annual Connection exhibition by Connexis in New Zealand on 19-21 of September. Please mark your calendars and come to see our E-PTOs in action and learn more about our products. Check the link for the expo INFO.
We are grateful to our distributor, Access Specialties Ltd, for their partnership and support in making this international shipment possible. This achievement demonstrates our commitment to expanding our reach globally and delivering advanced solutions to customers worldwide.