1 June 2023
#meetBanketeam: Introducing Per Schmidt – Service Leader and Troubleshooting Expert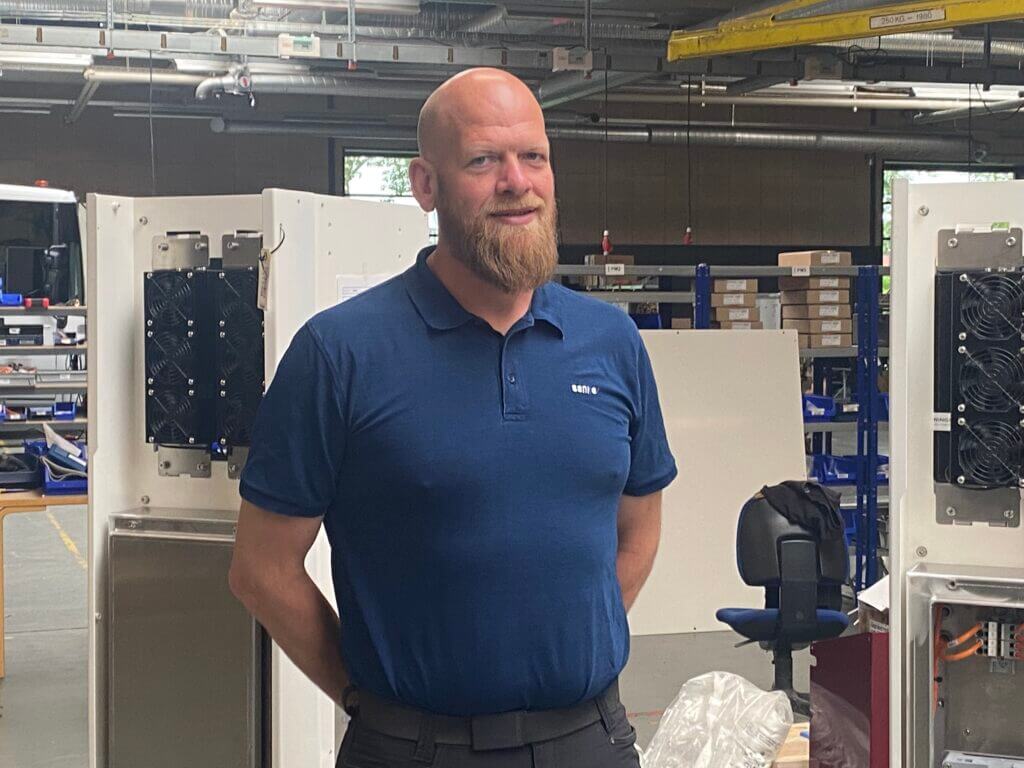 In our quest to provide a deeper understanding of the talents behind Banke, we present #meetBanketeam, a series of short stories that shed light on our team members' diverse competencies and contributions. Today, we are pleased to introduce Per Schmidt, Banke's service leader and skilled technician who plays a crucial role in ensuring our products perform at their best.
Per Schmidt's Role and Responsibilities:
Per Schmidt is an invaluable team member, serving as a service leader specializing in troubleshooting. His primary responsibility is to identify and resolve issues that arise with our products in the field. Per's expertise extends to our E-PTO, battery packs, hydraulics, etc., whether it's a refuse collection truck, crane, or another heavy vehicle.
The Thrill of Troubleshooting:
When asked about his favorite aspect of the job, Per expresses a genuine passion for troubleshooting. Using his analytical skills and experience, he thoroughly investigates problems, develops effective solutions, and determines the associated costs. Additionally, Per enjoys engaging with customers and acting as a liaison between Banke and the customers. His expertise in explaining technical complexities in simple words and finding mutually beneficial solutions is significant in maintaining strong client relationships.
A Day in the Life of Per Schmidt:
Per's workdays are anything but predictable. With a flexible schedule, he adapts to the demands of his role, often working late into the night or starting early in the morning. His calendar varies, ensuring he is available whenever and wherever his expertise is required. Per strategically plans alternating weeks to maintain a healthy work-life balance, dedicating longer hours during some weeks and shorter hours during others.
Collaboration and Key Team Members:
Per relies on collaboration to perform best in his role. While he works closely with service technician Thomas Paulsen, he also values the support of other team members. Our automation technologist, Simon Mathiesen, is an essential resource for specific inquiries and troubleshooting challenges, particularly related to the new eC-PTO and software programming. Additionally, Per maintains regular Teams meetings with our engineering office in Ukraine, leveraging their expertise to resolve field issues fast and efficiently. His teamwork extends beyond a physical presence, as he aptly describes himself as the hands while his colleagues become his eyes.
Professional Development:
Per finds professional development and growth paramount. Apart from improving his troubleshooting skills, he is keenly interested in leadership development. Having previously led a larger team, he aspires to enhance his leadership capabilities within Banke.
The Value of Hands-On Experience in Trainings:
Per is also involved in teaching our customers and finds satisfaction in sharing knowledge with others worldwide, adapting his approach to meet the diverse learning preferences of different cultures. In his extended experience, Per recognizes the importance of both theoretical and hands-on approaches to training. While some countries, like Switzerland, prefer theoretical education, others, such as Austria, embrace a hands-on learning style. Per highlights the advantages of on-the-field experiences, emphasizing that "seeing and touching" the equipment significantly enhances comprehension and fosters a deeper understanding.
Skills and Communication:
When it comes to skills and knowledge, Per emphasizes the vital role of logic in his work. Analytical thinking and systematic diagnostics are at the core of his troubleshooting process. However, he also stresses the importance of solid communication skills, particularly in diverse language environments. Per's experience with customers emphasizes the significance of speaking the local language to effectively connect with customers and colleagues.
Advice for Aspiring Professionals:
Per offers valuable advice to young and seasoned individuals seeking career growth. He recommends pursuing education in automation engineering or becoming an automatic technician. These paths align closely with the hydraulic, electric, and air pressure systems crucial to Banke's product lines. Per's expertise demonstrates the value of these specialized skills in his everyday tasks.
Life outside work:
 Per Schmidt knows how to make the most of his time outside work. With a passion for an active lifestyle, he involves himself in various activities that keep him engaged and energized. Per's passion for physical fitness shines through his participation in marathons and his love for cycling. Additionally, he likes the invigorating tradition of winter baths, embracing his inner Viking spirit. Beyond his personal interests, Per also finds joy in home improvement projects. He enjoys taking on tasks that improve his living space and create a comfortable environment. However, Per's qualities extend far beyond his hobbies and home. He is a reliable and compassionate friend and neighbour, always ready to lend a helping hand. Known for his willingness to assist others, Per represents the spirit of community support.